Aurora is a customizable, green-energy generation unit that can be delivered anywhere in a standard container. It is able to supply energy from different sources, such as solar, wind and from fuel cells. It has been specially designed for use in natural disasters, isolated areas, urban worksites, field hospitals, small and temporary housing and humanitarian activities.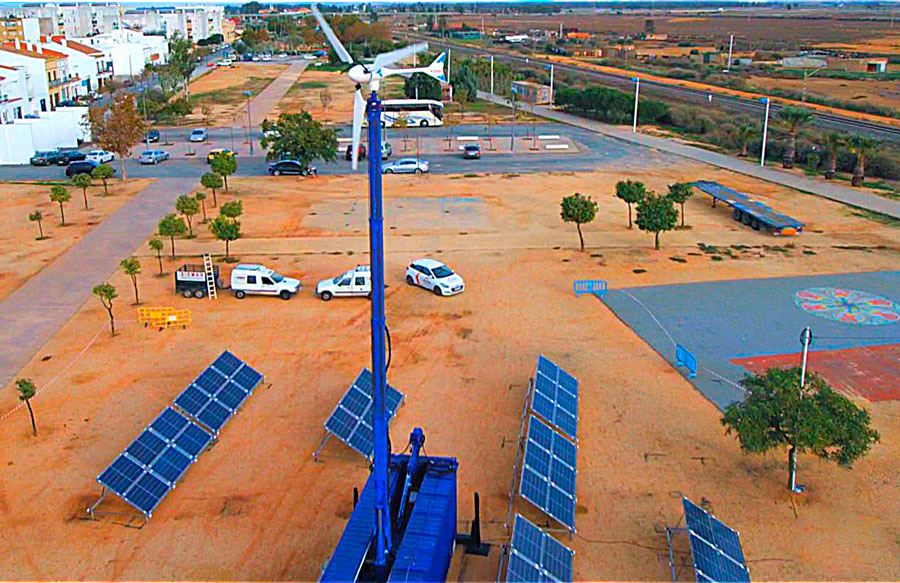 It's a mobile green energy generation system.
Easily transportable in standard containers.
It can be monitored and controlled remotely.
Entirely autonomous
Automatic system of hydraulic foundations for loading from the truck and stabilization of the deployment system.
Robotic arm included. It is also the mast of the wind turbine.
Gel batteries included for the storage of energy and continuous supply.
Optional fuel cell based on H2 for energy storage through an electrolyser and stored as metallic hydrides.
The electrolyser in the optional module H2 also produces oxygen under medical specifications.
100% customizable to suit installation site conditions.
Over 120 photo-voltaic panels (over 60kwp).
One or more wind turbines (from 5 to over 60kwp).
Utilizing a robotic arm, it automatically deploys all the panels once the wind turbine is erected and supported, using the least human assistance. In addition, it can be controlled and monitored remotely.